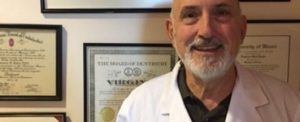 Lawrence Kotler, DDS, MS
Endodontic & Root Canal Specialist
Dr. Kotler holds a bachelor's degree from the University of Miami, a Doctor of Dental Surgery degree from the Medical College of Virginia, a Master of Science degree in oral biology from George Washington University, and a certificate in endodontics from the Walter Reed Army Institute of Research.
A licensed dentist in Virginia since 1973, Dr. Kotler limited his practice to endodontics in 1980. In 1994, he retired from the U.S. Army Dental Corps as chief of the Department of Dentistry and chief of endodontics for the Walter Reed Army Medical Center in Washington, D.C. He is a diplomate of the American Board of Endodontics and past president of the Virginia Academy of Endodontists.
Meet Our Team
Our fantastic and pleasant team have been working together for over five years! We have a good rapport with each other, which transfers over to our patients as we create a professional and friendly environment where you can feel comfortable. Our close-knit team loves taking the time to engage with our patients to ensure we are meeting your needs. Additionally, we have Spanish speakers! We invite you to learn more about Lawrence Kotler Endodontics and our services in Alexandria, Virginia, by calling our office at 703-931-6600 and scheduling an appointment with our endodontist, Dr. Kotler.